Gus and the team at Paradise Adventures are waiting to welcome you to the island of Sal, we will ensure you get to see all the best things Sal has to offer. We take care of every little detail for you so you can just enjoy your holiday – No stress!
As a Cape Verdean, Gus will only ever use local tour guides and drivers, with an extensive knowledge of the island, it's people, heritage and history. Paradise Adventures are committed to giving back, by choosing a local company you will get the real "Sal experience" and you will also be giving back to the local community!

Meet the team
Gus – Founder / Owner
Gus has Cape Verde running through his bones and 'No Stress' running through his veins.
Born in Cape Verde, Gus is multilingual speaking Creole, Portuguese, English and Spanish. Gus moved with his family to USA for 15 years and studied Sociology, he always felt a strong pull back to his homeland. When he came back he spent time working for tour companies such as TUI, but always felt a social responsibility for Cape Verde and wanted to give back. So, in 2015 he made the move to start Paradise Adventures with Gus. His aim was to use and source locally and to give back to the local community which he is now able to do. Gus takes an enormous amount of pleasure making sure his customers have the best possible experience and that each and every one of them leaves wanting to return.
Gus has three children and lives in Santa Maria, in his spare time he plays football and coaches the local kids on a Saturday morning. If any kids want to have a game with the locals whilst on holiday please drop Gus a message and he will arrange this.
"Would like to thank Gus for making my wee boys night for getting a game of football with the boys! ⚽"
Vania – Ace Tour Guide / Kids Favourite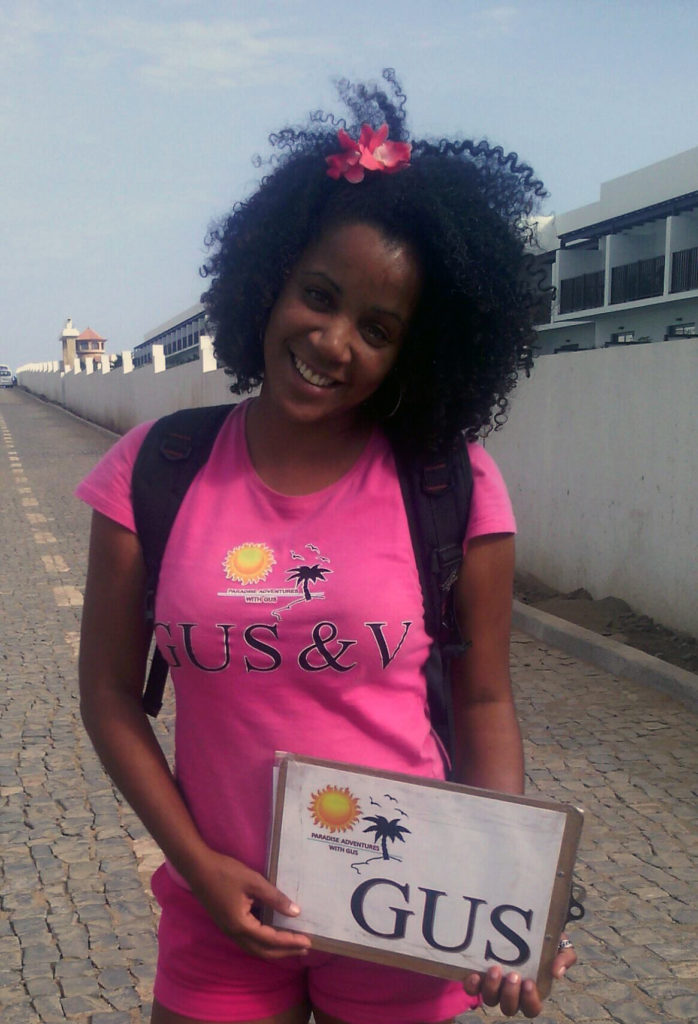 The lovely Vania is like the "Pied Piper" of tour guides, wherever V is kids are sure to follow.
Vania is Cape Verdean born and bred, originally from Sao Vicente she relocated to Sal in 2015 after finishing her studies to be an accountant. Vania has been working in tourism since she arrived in Sal and is adored by locals and tourists alike. She started her career as a island photographer but was quickly snapped up (excuse the pun!) by Gus to become one of his much loved guides.
"We had the Island Tour today with V – booked through Goose Gus CaboverdeSal. She was amazing and so good with our 4 year old!! Recommend them so much!! 🌴♥"
Danny – Tour Guide / Mr Popular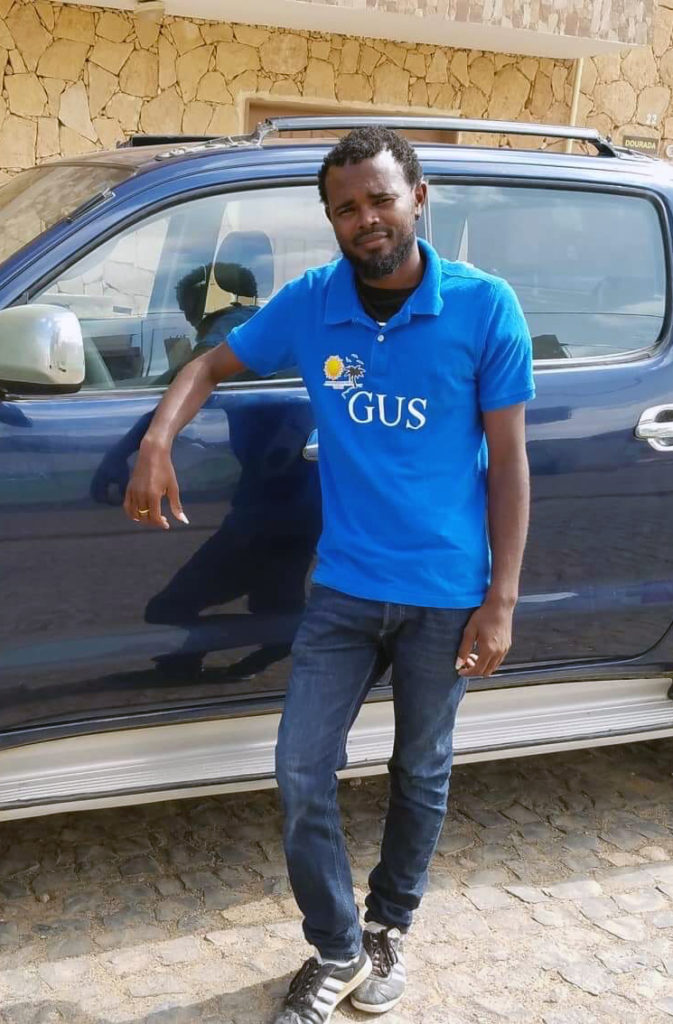 Danny knows everyone on the island, everywhere you go, you will hear "hey Danny" With his cheeky Chappy smile he can charm the birds off the palm trees! He's your little brother and best mate rolled into one and knows all the best places to go.
Danny was born and raised on the island of Santo Antao, he started out working as a waiter at the Rui but decided his talents were wasted and needed to show guests the beauty of Sal. Danny loves his job and takes great pleasure in making people happy, if you don't leave the tour with a smile you haven't been on a Danny tour!
"I highly recommend we booked with Gus and Danny Ramos was our guide. The tour was excellent, well managed so many beautiful places to stop and Danny was an absolute legend"
Tour Sellers / The Man Men
Edgar and Victor do a brilliant job of keeping the tour guides busy, they are two of the nicest guys you will ever meet. No hard sell with these two just honest, reliable information, it's our policy to never promise anything we cannot deliver.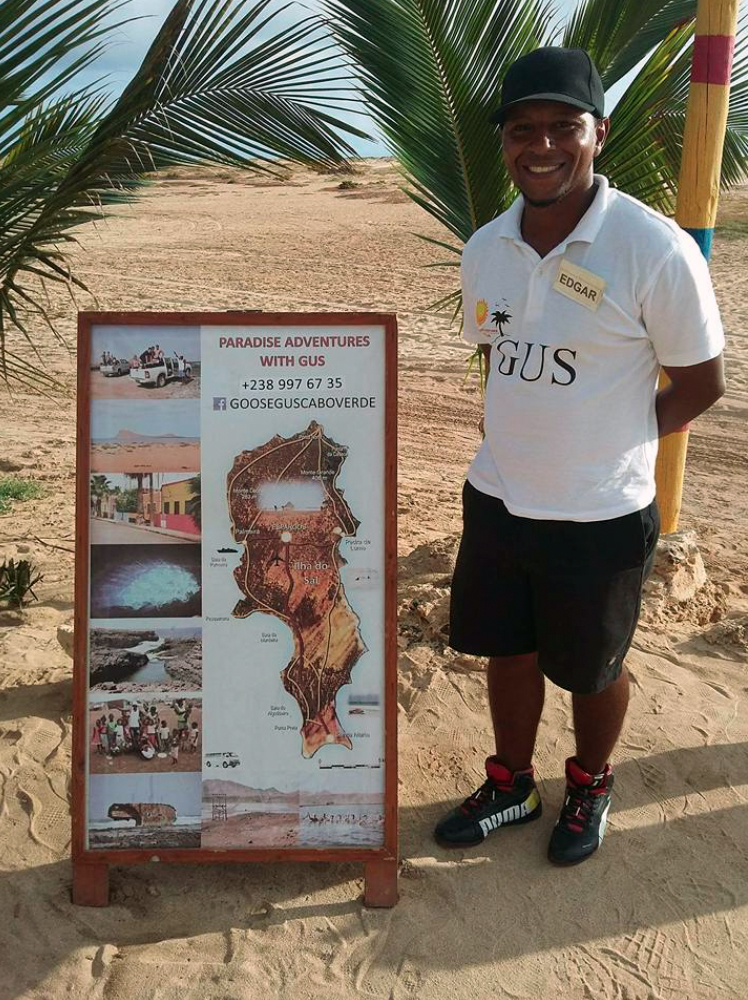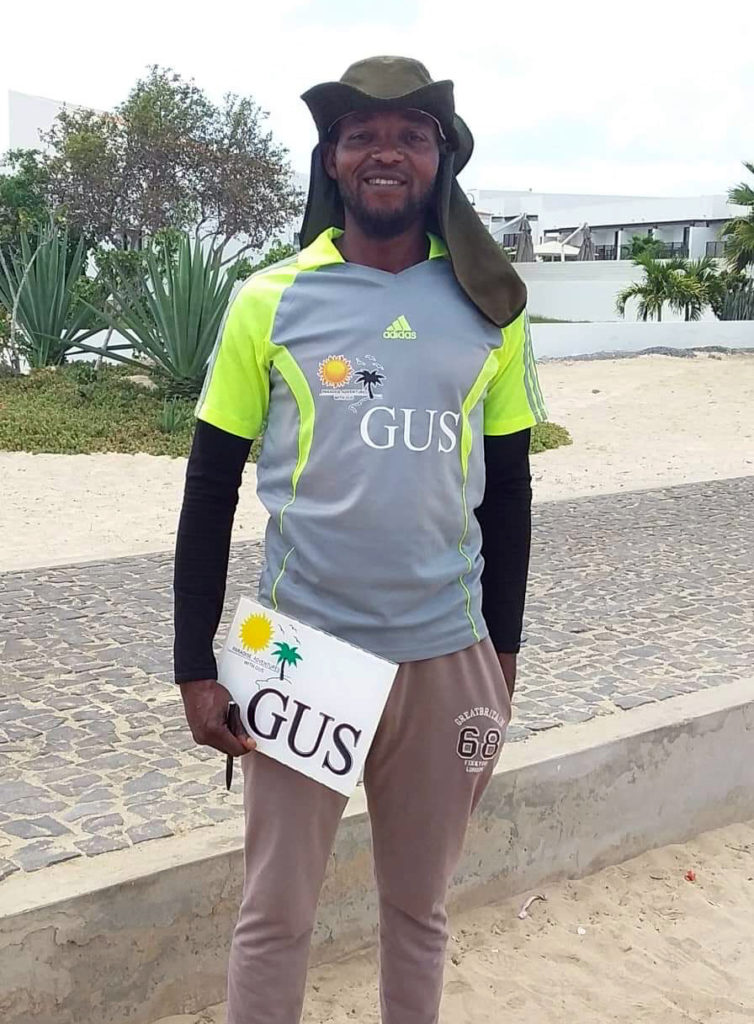 Edgar is based at the Riu Palace on the beach, saving the best for last in the line of tour sellers. Born in Cape Verde, Edgar lived in the USA for 25 year before returning home in 2006. He studied Architecture and Studio Arts whilst in America, he has worked at the Rui on Reception, real estate for UK and Local companies and as a tour consultant for UK based company "Cape Verde Experience" Edgar has worked for Paradise Adventures with Gus for 3.5 years now and is a firm favourite with the tourists. Edgar is a real family man with one child and another on the way.
Victor is based on the beach in front of the Melia Dunas resort, he can be identified by his "Gus" top. Victor came to Sal seven years ago from Nigeria. He originally came to play football in the league and in order to provide a better future for his two children and family. He loves living in Esparagos and enjoys the Cape Verdean "no stress" living here. Originally Victor worked in construction but soon got a job working in tourism, he has worked for Paradise Adventures with Gus for a year now and is a firm favourite with guests at the Melia Dunas and Melia Llana hotels.
Both guys would love to see you to talk about any requirements you have for trips whilst on your holiday or just pop down to the beach to say hi, they love to chat.
We have put our popular trips on the website but if you can't find what you are looking for, Gus, Edgar & Victor will be more than happy to help with you specific requests. For example we can arrange a private tour with a photographer for a special occasion, maybe it's your honeymoon or birthday or even a proposal! Come talk to us, it would be our pleasure to meet you.